Transport
People travel from the UK to France:
up in the sky in an aeroplane;

across the English Channel on a ferry;

under the English Channel on a train in a tunnel.
Cars drive on the right-hand side of the road in France. The motorways are called autoroutes and drivers must pay a toll to use them.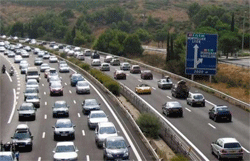 The TGV is a very fast train that travels across France at speeds up to 200 miles per hour.